It's almost spring, it's almost spring, it's almost spring. That's what I keep telling myself lately. I love winter, but by March, I'm ready to quit my winter coat and say hello to my shorts again. Fruit always reminds me of summer, so to help ease the pain of these last few weeks of winter, I've grabbed a few of AllFreeCasseroleRecipes' best fruit desserts. After one bite of any of these tasty treats, you'll be transported to a tropical island. Before you know it, spring will truly be here.
Berry Berry Good Cobblers
Texas Style Blueberry Cobbler – They say everything is bigger in Texas, but what they should say is everything is better. This Texas cobbler is bursting with juicy blueberries under a buttery crust. This Southern comfort dish will truly help you transition from winter to spring.
Luscious Berry Custard Cobbler – Our second cobbler recipe uses blackberries and lives up to its "luscious" name. It's low-fat, if you can believe it, so when you're ready to take off your layers of sweaters when spring arrives, you won't find any extra layers underneath.
Coconut and Lime Perfection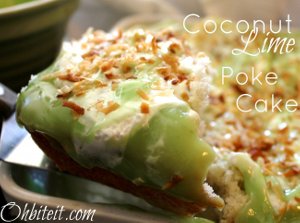 Coconut Lime Poke Cake (pictured) – You'll definitely feel like you're on an island in the sun when you bite into this poke cake. A Key lime fruit filling seeps into the holes of a white cake, which is topped off with frosting and shredded coconut flakes. De-licious!
Coconut Lime Bars – What's not to love about these bars? An animal cracker crust, cream cheese and lime filling, and shredded coconut topping are the three components of these heavenly bars.
Coconut Lime Cake Bars –  These cake bars come from the blog, Molly Alice Nests, and are pretty amazing. Their texture is between a cake and a blondie, hence the name, and they're overflowing with coconut and lime flavors. These are indeed worth checking out.
Raspberry Dreams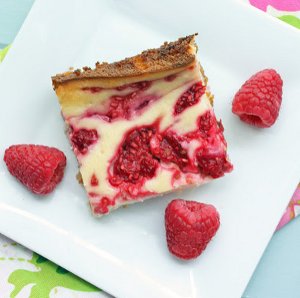 Coconut Raspberry Cheesecake Bars – These cheesecake bars are easy to freeze, so you can make a batch, freeze them, and then take out one or two at a time. They have a vanilla wafer and coconut crust, and are filled with whole raspberries. If you have the willpower, they may last until the spring (if you freeze them, that is).
Dreamy Raspberry Cheesecake Bars (pictured) – Our final fruity recipe is certainly a good one. A coconut macaroon crust forms the base and mashed raspberries are swirled into the cheesecake filling. Pretty dreamy, right?
What's your favorite fruit to use in desserts?
Latest posts by AllFreeCasseroleRecipes
(see all)