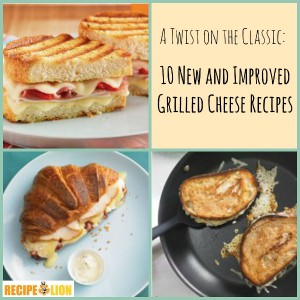 You won't look at grilled cheese the same way again after reading about all of these recipes. Of course, there's the classic grilled cheese that's a staple in every household. Everyone has their favorite way to make this sandwich. My personal favorite way to make grilled cheese is to slather butter on the outside of some whole grain bread and put two slices of Muenster cheese inside, then grill until it's nice and crispy. But, the recipes in this round-up take the sandwich to a whole new level. Some include meat or sauces, but others add veggies and other surprising ingredients to make these grilled cheeses some of the best ever.
The best thing about these recipes is that you can serve them to anyone. What kid can deny a delicious grilled cheese? And, even better, adults won't push it away either because it's a new way to eat an old favorite. There's a little something for everyone here, whether you just want to try a new combination of cheeses or add something completely new and unexpected. You can serve these delicious sandwiches for lunch or for an easy weeknight dinner when you're busy.
Don't feel limited by your old favorite sandwich. These recipes will open you up to new possibilities and help you discover exactly how much you can do to make a grilled cheese sandwich completely awesome.
Our Favorite Grilled Cheese Recipes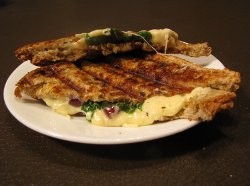 Hog Island Grilled Cheese – Made with four different types of cheese, this sandwich is sure to knock your socks off.
Scrumptious Monte Cristo Sandwich – Monte Cristo sandwiches are a combination of grilled cheese and French toast. What more could you want?
Awesome Grilled Cheese Sandwiches – "What makes these sandwiches so awesome?" you might ask. Well, you'll have to click through to the recipe to find out!
New Jersey Ham, Egg, and Cheese Sandwich – Whether you eat this sandwich for breakfast or lunch, this is a wonderfully versatile way to dress up your grilled cheese.
Creamy, Cheesy, and Smoky Croissant – Grilled cheese tastes better on a croissant. You'll love the way the smoky turkey complements the cheese in this sandwich.
Italian Panini Sandwich (shown) – Make your grilled cheese into a panini with just a few simple steps. Plus, give it a little Italian flavor with some Italian seasonings and olives.
Salsa Chicken Grilled Cheese Sandwich – Your grilled cheese has never been so bold! Spice it up with your favorite salsa and chipotle Cheddar cheese.
Great Blogger Grilled Cheese Recipes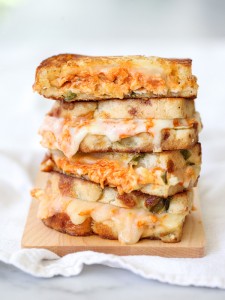 Bacon Avocado Grilled Cheese from Inspired Dreamer – This is the ultimate grilled cheese. The avocado adds some creamy mildness, while the bacon gives some texture and flavor to the sandwich.
Buffalo Chicken Grilled Cheese from Foodie Crush (shown) – You're going to love this recipe because it's perfect for leftover chicken. Plus, this blogger teaches you how to take a great photo of your grilled cheese so you can share it with others.
Gouda Grilled Cheese with Roasted Mushrooms and Onions from She Wears Many Hats – The Gouda cheese alone would make this recipe taste gourmet, but the addition of mushrooms and onions just puts it over the top.
How do you make grilled cheese?
Latest posts by RecipeLion
(see all)