You're invited to AllFreeCasseroleRecipes.com's Twitter contest!

Join us Wednesday September 25, 2013 from 12-1p EST  for a fun chat with your fellow casserole enthusiasts and enter for your chance to win a great prize!
Entering is easy. Here's what you have to do:
Follow @AllCasseroles on Twitter. If you don't have a Twitter account, you can easily create one for free!
Log on between 12:00 p.m. and 1:00 p.m. EST.
We'll post a question on our Twitter feed and provide our special hashtag for the giveaway – #CasseroleFun. Click reply, answer our question, and don't forget to include the hashtag! Only tweets that include #CasseroleFun will be considered eligible to win.
Check back at 1:00 p.m. and find out if you're a winner!
GIVEAWAY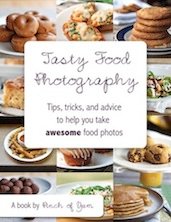 The Tasty Food Photography eBook was written by Lindsay Ostrom, the blogger behind Pinch of Yum. Lindsay shares tips and tricks on how to take perfect photographs. Learn the techniques of lighting, composition, props, editing, and more. With over 50 pages of useful information on food photography, your pictures will go from dab to fab in no time. We know you make awesome food. Now your photos can reflect that. To learn even more about the eBook, read our review of Tasty Food Photography.
Giveaway rules:
Contest open to U.S. and Canada residents 18+.
Contest closes September 25, 2012, at 12:59 p.m. EST.
You must use the hashtag #CasseroleFun
Winner will be posted on Twitter.
Be sure to set yourself a reminder to join us on September 25! See you all then!
Latest posts by AllFreeCasseroleRecipes
(see all)