Apple season has finally arrived, which means it's time for apple pie, apple cider, and a better excuse to eat peanut butter out of the jar (using an apple slice as your spoon makes it healthier, right?) Whether you're at an apple orchard or just the produce section of the grocery store, you'll notice the many types of apples available. You will see rows upon rows of different names, colors, and sizes. When faced with so many varieties, how do you possibly choose which apple to pick? Believe it or not, the apple you pick depends on what kind of dish you want to make. When it comes to the world of cooking, few fruit are as versatile as apples. Sure, apples are great in a whole host of baked desserts, from cobblers and cakes to more, but this wonder fruit is also delicious when paired with savory foods like cheese or pork.

With so many amazing apple recipes to make, it's crunch time to find the perfect apple. Instead of wandering aimlessly down Apple Lane, you can now use this handy dandy guide to determine which apple is best for eating, baking, and cooking. As you will see, there are some all-purpose apples that work for everything.
Best Eating Apples
Each type of apple has its own distinct flavor, but here are some fresh picks.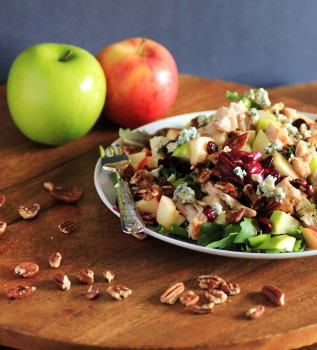 Braeburn: A cross between sweet and tart, these reddish yellow apples give a satisfying crunch.
Granny Smith: Due to its bright green color, firm exterior, and extremely tart taste, these apples are best used raw in Waldorf salads or dipped in sweet spreads like peanut butter or chocolate. You can get creative and make these Healthy Candy Apple Wedges.
Golden Delicious: This pale yellow apple is super juicy and sweet.
Honey Crisp: One of the sweetest apples around, this refreshing apple (and my personal favorite) boasts a distinctive juicy crispness that makes for a stellar snack.
Red Delicious: What these apples lack in flavor they make up for in vibrant color. Dice up a Red Delicious in your salad to brighten up a dull bowl of lettuce.
Gala: A thin-skinned apple with a mild sweet flavor, best alongside strong cheeses like blue or brie. Taste how amazing apples, cheese, and nuts go together with this Candied Pecan, Apple & Gorgonzola Salad.
Best Baking Apples
The best apples for pie, crumbles, and cakes are the ones that can hold their shape and give the right balance of tartness and sweetness.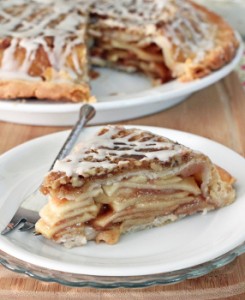 Golden Delicious: These apples are sweet and buttery, which provide a rich flavor to desserts like this Cozy Apple Coffee Cake.
Granny Smith: Tart and sturdy, this apple is a no-fail apple in terms of baking because it will always hold up in the oven. Get a few pounds of apples and whip up this winning apple crumb pie today.
McIntosh: These apples are perfect for apple sauce because they are tender, slightly grainy, and easy to mush. Also highly aromatic and a bit spicy, McIntosh apples make excellent ciders.
Best Cooking Apples
Just like baking, braises require a heat-tolerant fruit that complements the other ingredients.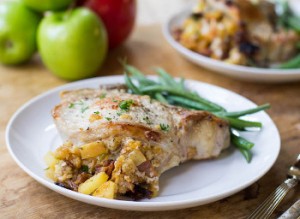 Jonathan: A sweet, but acidic apple enhances the flavor of pork and duck. For hearty meal that's sweet and salty, make Spicy Southern Kitchen's Apple-Bacon Stuffed Pork Chops.
Granny Smith: The fruit's unique tang is perfect for those craving a combination of sweet and savory in their meals. Try simmering these apples with an array of herbs and spices in beef stews or chicken recipes like this Apple Cinnamon Chicken Stew from Not Enough Cinnamon or this divine Chicken and Apple Casserole.
Golden Delicious: This sweet apple pairs nicely with roasted sweet potatoes, squash, or carrots. If you're looking for a yummy way to combine those fabulous fall flavors, this Apple Sweet Potato Bake is absolutely delectable.
Need a recap? Here's a helpful chart from The Yummy Life: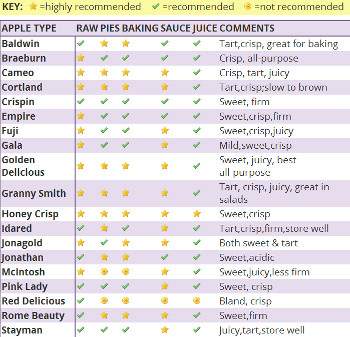 What is your favorite type of apple?
Latest posts by FaveHealthyRecipes
(see all)