Whenever I make a casserole, I think of myself as an artist with a blank canvas.  I know it might seem sort of strange, but really an empty casserole dish is your opportunity to make a dinner masterpiece.  There are so many different combinations of flavors you can fill the dish with… and it's all up to you.  Chicken or beef, veggies or rice, cheese or potatoes… or all of the above!
I love playing around with different ingredient pairings and coming up with new and different casserole creations.  In fact, I've been so into casseroles lately that I rounded up an awesomely huge collection of casserole recipes… 410 of them to be exact!  If you're like me and love making casseroles for dinner, you'll want to check out this brand new Ultimate Casserole Recipe Guide.  Here's a sneak peek of what's inside: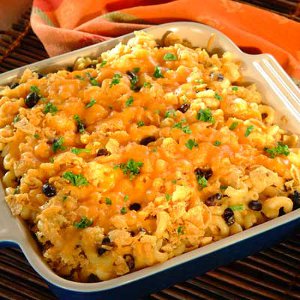 Say goodbye to boring chicken casserole recipes!  There are so many creative and deliciously unique casserole recipes you can make using chicken that there's no reason to settle for something boring and bland.  I love the recipes for Black Bean, Chicken and Cheese Bake (shown above) and for Chicken Enchilasagna (a crazy delicious combination of enchiladas and lasagna) included in this collection.  You can find 11 Crazy Casserole Recipes with Chicken in our Ultimate Casserole Recipe Guide.
One of the biggest reasons I love making casseroles is because they're so simple.  Just layer in a bunch of your favorite ingredients, toss it in the oven and voila: the perfect dinner dish!  The only thing that can make casserole cooking even easier is using delicious canned soups.  Campbell's has some of the best casserole recipes around because their soups make each dish incredibly moist and flavorful. In this collection of 18 Easy Casserole Recipes from Campbell's are some of my all-time favorite casseroles, like the Chicken Salad Casserole pictured above and the Family Spaghetti Pie which no one can pass up.
When I first started making casseroles I had absolutely no idea that you could make a casserole in your slow cooker.  How neat!  Now I'm totally in love with the idea of an effortless casserole recipe that basically cooks by itself.  Some of my favorite slow cooker casserole recipes to make are the Slow Cooker Chicken, Broccoli and Cheese Tater Tot Casserole (shown above) and the Slow Cooker Pizza Casserole in this roundup of the 10 Best Slow Cooker Casseroles ever.
Now that you've gotten just a small taste of what's inside the Ultimate Casserole Recipe Guide, don't you want to find out more?  There are exactly 410 recipes for casserole perfection, so you could make a different casserole every day of the week and never have any repeats for a whole year!  This recipe guide is something you're going to want to save and keep handy if you love casseroles as much as I do!
Latest posts by RecipeLion
(see all)