Okay, people. I want to talk to you about poke cakes. They're awesome, aren't they? Bake a cake, poke some holes, pour sweetened condensed milk/pudding/jello/custard inside, frost, and eat. It's simple enough to make, yet it transforms a plain cake into a dessert masterpiece. And even so, there are simple poke cakes and there are more complicated ones. I made my first one this weekend, and let me tell you, I didn't make a simple one. I chose to make the ultimate poke cake: the Rainbow Birthday Poke Cake (and it's not even anybody's birthday! : O )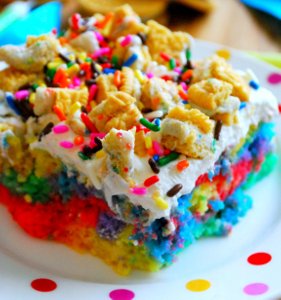 After seeing this Better than Presents…Rainbow Birthday Poke Cake from The Domestic Rebel, it wasn't long before I decided I had to make it myself. I checked out the recipe and discovered it comes from Something Swanky. No surprise there – Ashton is the queen of poke cakes, in my opinion. Ashton's Better than the Pot o' Gold…Rainbow Poke Cake looks like this: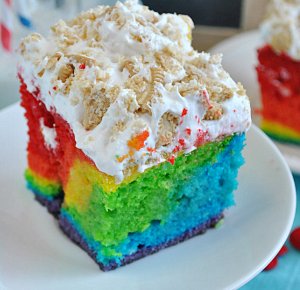 I love how vibrant the colors are. The Golden Oreos blend in nicely with the white frosting, which makes the cake underneath it stand out even more. I also liked how The Domestic Rebel turned hers into a birthday cake, and topped it off with Birthday Cake Golden Oreos (yes, they do exist!) and sprinkles. Who wouldn't want this as their birthday cake? I know I would.
So, I got to work baking, poking, and pouring, and created this gem. There are a few more steps involved than when making a simple boxed cake mix, but the result is so worth. I had a blast making it and couldn't wait to eat it. The result: incredible. I know the food coloring is tasteless, but I swear it makes the cake taste better. Maybe it's because we eat with our eyes…I know I do. I made my own frosting, but because the cake and Oreos add a lot of sweetness, I think a simpler Cool whip topping would suffice (which is what the original recipe calls for).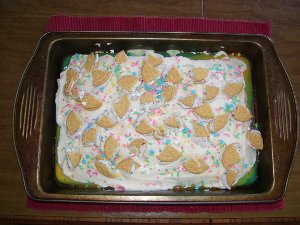 Okay, so I know my pictures aren't as good as theirs, but I still wanted to share how it turned out. Look at all the pretty colors! I love rainbows! And don't get me started on how awesome those Birthday Cake Golden Oreos are. They add the perfect finishing touch to the perfect birthday cake.
If you liked this cake, then check out these other rainbow desserts and  poke cake recipes:




What's your idea of the perfect birthday cake?
Latest posts by AllFreeCasseroleRecipes
(see all)