I am definitely more of a baker than a cook.  I love that in baking you have room to experiment with things like form, texture, shape and color.  Over the years I've made desserts in all sorts of shapes… from squares to ovals… even some pyramids!  It's just fun to get crazy in the kitchen and to see what you can come up with by starting off with some flour, sugar and baking powder.  You really never know where the ingredients are going to take you.
One of my all-time favorite "wacky" dessert recipes to make is the ultra-cool upside down cake.  There's just something about that getting to flip over the pan at the end and see what you've made that makes me so happy.  If you've ever seen or eaten an upside down cake before, you know what I'm talking about. These cake are just plain awesome!  Now, the traditional flavor for upside down cakes is pineapple, but like I said earlier… I like to experiment in the kitchen, so when I make upside down cakes, I like to change things up a bit.  My upside down cake recipe of choice?  This inventive and uniquely flavored orange upside down cake.  Bright and citrus-y while still ringing true to everything you love about classic upside down cake, this dessert recipe is one you're going to go crazy for.  Trust me.
Upside Down Orange Cake Recipe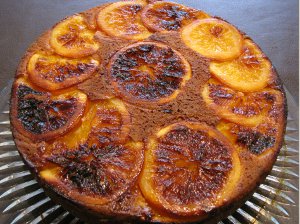 Ingredients:
For the Candied Oranges:
2 oranges, well-rinsed, thinly sliced and pitted
2 cups water
1 cup sugar
For the Cake:
1 orange well rinsed cut to 4 and pitted
4 eggs
1 cup sugar
2/3 cup plain yogurt or buttermilk
1 teaspoon vanilla extract
2 sticks of butter, melted
2 3/4 cups all-purpose flour, sifted
3 1/2 teaspoons baking powder
Instructions:
For the Candied Oranges:
Put in 2 cups of water and 1 cup of sugar in pot and cook over medium heat, stirring, until sugar is completely dissolved. Bring to boil and cook for ten minutes, until you get thick syrup.
Add the oranges to hot syrup and cook gently for 15 minutes until glazed orange slices become soft and shiny. Remove with slotted spoon and place carefully on a tray.
For the Cake:
Preheat oven to 350 degrees F.
Grease and line with parchment paper 10.5 in diameter spring form pan.
Blend the third orange with peel in a blender or food processor with eggs, melted butter, vanilla extract and buttermilk until fluffy and light.
In large bowl mix flour, baking powder and sugar. Add the liquids and mix until just blended. Don't over mix.
Arrange on the bottom of lined pan candied orange slices, overlapping – like tile. Pour the batter over oranges and bake for about 50 minutes or until toothpick inserted in the middle of the cake comes out clean.
Let the cake cool slightly for about 15-20 minutes and then turn the cake on a serving plate, it should be still warm.
Our thanks to Featured Foodie Victoria Paikin for sharing this great summer dessert recipe with us!
Have you ever made an upside down cake before?
Latest posts by RecipeLion
(see all)