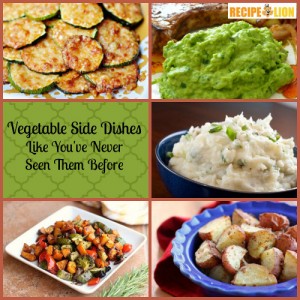 Whenever I make dinner, my first thought is the main dish. I plan out everything, buy the ingredients, and quickly get cooking. But, most of the time, as I'm starting to prepare my entree, I realize that I've completely forgotten to incorporate a vegetable side dish into my meal. Even worse, the only thing I have is a bag of frozen broccoli, so I end up with bland, watery veggies that ruin an otherwise perfect meal. If you've experienced the same problem before, then don't fear! I've gathered the best simple vegetable side dishes just for you, so that you never have to worry about finding an easy side dish recipe at the last minute again.
All of these recipes really are out-of-the-box ways of preparing your favorite veggies. Most of them contain five ingredients or less, and the ones that don't are still extremely simple. You'd never guess that basic ingredients like maple syrup or Parmesan cheese could so drastically improve the taste of vegetable side dishes. These recipes are the best because their light flavors complement the natural taste of the vegetables instead of overwhelming it.
The next time someone in your family complains about how much they don't like vegetables, serve them one of these dishes. They'll soon change their tune. Everyone will beg for your vegetable side dishes if you make these recipes!
Root Vegetable Recipes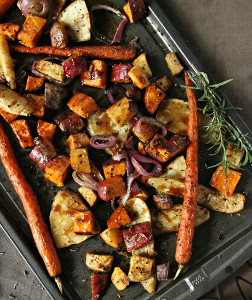 Balsamic Roasted Vegetables – Just because these vegetables are simple doesn't mean they aren't delicious! The balsamic glaze for the vegetables only contains five ingredients, and you can pick and choose your favorite root veggies to roast.
Ranch Roasted Red Potatoes – These potatoes explode with ranch flavor the second you put them in your mouth. This particular recipe is  only four ingredients, so you know it's worth it.
Maple Roasted Vegetables (shown) – This recipe is a bit more complicated, but the pay-off for this vegetable side dish is so great, you'll want to make it right away. Kids and adults alike will see veggies in a whole new way once they're covered in maple syrup.
Dreamy Buttermilk Mashed Potatoes – This is the classic mashed potato recipe you've been hoping to find. These mashed potatoes are my personal favorite because they are crazy easy without skimping on flavor.
 Squash and Zucchini Recipes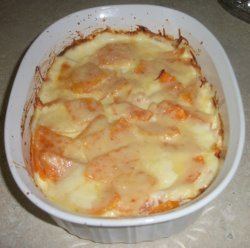 Butternut Squash Au Gratin (shown) – Yes, you heard me correctly. That's butternut squash covered in cheese. How can you resist this five-ingredient dish?
Baked Parmesan Zucchini Rounds – This is the easiest of vegetable side dishes, and it even makes a great snack. Click through and find out why people are raving about this recipe.
Grilled Zucchini Bruschetta from Cooking with Ruthie – These adorable zucchini bites look and taste great. Serve them as an appetizer or as a side!
 Green Vegetable Recipes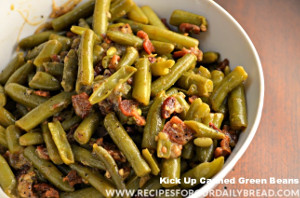 Best Canned Green Beans (shown) – This is a great way to dress up canned, frozen, or even fresh green beans. No matter what, they'll taste better than any green vegetable you've had before.
The Best Mashed Peas – This vegetable side dish is exactly like mashed potatoes, but it's made with peas instead. You've just got to try this one to believe how delicious it is!
Grilled Brussels Sprouts from Kojodesigns – There is no easier way to cook veggies than on the grill. This recipe will make you fall in love with Brussels sprouts all over again.
What is your favorite vegetable side dish?
Latest posts by RecipeLion
(see all)