I'm the first to admit that I'm not a very experienced cook.  As a late-twenty-something woman living on her own, a lot of my cooking has been trial and error… with a lot more emphasis on the "error" part.  Sure there are plenty of easy recipes online that I can follow, plus there are literally thousands of YouTube videos with cooking tips, tricks and advice, but for me there's only one thing that's helped me learn how to cook better and that's my grandmother.  No amount of technology can replace the years of cooking and baking experience that my grandma has under her belt.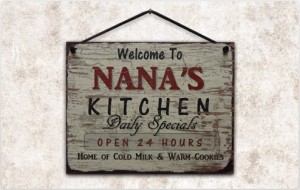 Whenever I'm frustrated with a dish or start to feel lost in the kitchen, I just pick up the phone and ask her what she would do.  There's something to be said about experience making you a better cook, but I also think timing has a lot to do with it.  My grandmother did her peak cooking during the 50s and 60s and back then women (I say women because they were doing most of the cooking in those days) had to rely on themselves, their friends and their trusty cookbooks (passed down from their own mothers) to learn how to make the best dishes.
They had to come up with their own work-arounds when things went wrong in the kitchen; they had to be resourceful, inventive and smart about their cooking.  That's why I place so much stock in the recipes passed down to me from my grandmother.  Not only have they stood the test of time, they were also used in a time before shortcuts and quick fixes.  These recipes are the real deal.
All this thinking about my grandmother and cooking in the 1950s got me thinking.  I decided to embody that resourcefulness that I so admire in my grandmother and seek out some vintage recipes of my own.  Below you'll see what I came up with.  I'm very excited to get in my own kitchen and try out these recipes from yesteryear.
Retro Recipes from Yesteryear:
Old-Fashioned Chicken & Dumplings
Sunday Morning Pecan Shortbread, via Kooking in Heels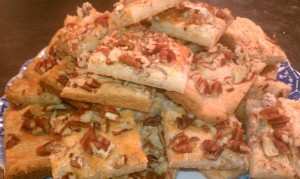 Grandma Leen's Mac & Ham Casserole
Grandma's Peach Pie, via Martha Stalwart
During my "retro recipe" research, I also came across this article from TipNut.com called "Vintage Cookery Tips & Tricks."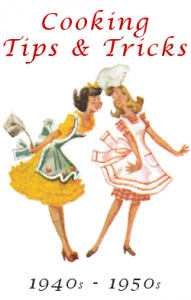 It's basically a bunch of snipets of cooking advice from the 1940s and 50s taken from old magazines and cookbooks.  It's a really interesting read, so check it out.  Here are a few of my favorite pieces of advice:
"To cook a cracked egg, wrap the egg in waxed paper, twist the ends and drop in boiling water."
"Keep parsley fresh and easy to use in this way: Wash it thoroughly, then shake or pat it dry. Wrap it tightly in a piece of aluminum foil. Whenever you need some, use a sharp knife or scissors to cut off the necessary amount. Return remaining wrapped parsley to refrigerator."
"Fill a wire basket with fruits or vegetables, submerge it in a tub of hot water, let stand a minute then dip the whole basket in cold water. The peelings are loosened and come off quickly. This eliminates a lot of extra handling during canning season."
"Add a teaspoon of baking powder to every four eggs when making an omelet (beaten in thoroughly). The omelet will be considerably lighter, more attractive and tasty."
"If cake becomes dry, wrap it in a damp cloth, and set it in a moderately warm oven until the cloth is dry."
So there you have it: some great tried-and-true cooking advice that's still totally helpful for today's home cooks.
Tell me:  What's your favorite dish that YOUR grandmother used to make?
Latest posts by RecipeLion
(see all)