Some say the best recipes they have are the ones that have been passed down from generation to generation. Grandma's recipes always seem to be a family favorite. It is fun to think that these recipes sometimes have been around for years and years. It's crazy to think your mother, your mother's mother, and maybe even grandma's mother grew up cooking the same pie or summer salad. This makes vintage recipes more memorable. There is more to a vintage recipe that just the ingredients. There is story behind every one that is told through the recipe itself.
Times do change, and so do taste buds. Is it really possible to have a vintage recipe last so long? Some get lost in the shuffle and some need to be tweaked. Modern recipes all somewhat have the same guidelines; make it healthy. We now know so much about staying fit and what we should and should not eat. This requires many vintage recipes to be tweaked by substituting ingredients or cutting ingredients down to cut fat or calories. Or even finding out what the ingredient was because many ingredients then are called something different or even don't exist today. But the heart of the recipes, the flavors and love that goes into making these never changes. Modern or vintage, recipes all have a story to tell and are a fun thing to share and connect with others.
FaveHealthyRecipes.com has found some of the best vintage recipes for you and your family. They all have a delicious taste with a lot of history.
Inspired-by-Grandma Recipes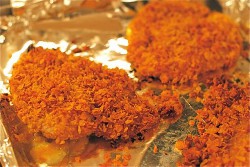 Grandma Pat's Oven Fried Cornflakes ChickenThis recipe is simple. It requires only 4-ingredients. It an easy recipe that you know the whole family can enjoy. It's great for picnics or your next potluck.
Grandma's Favorite Chocolate Cake
There are chocolate cakes, then there is Grandma's Favorite Chocolate Cake, one of the best chocolate cake recipes in existence. Almonds add a distinct taste and texture to this chocolate dessert recipe. It is a sweet treat that you won't be able to stop eating.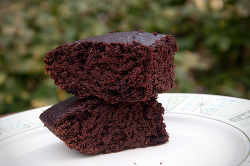 Stuffed Chicken Rollantini
Shredded zucchini, garlic and mozzarella cheese rolled in chicken cutlets, then dipped in oil and fresh lemon juice,
breaded and baked to perfection! That crispy crust will have you believing you are eating your great grandma's fried
chicken recipe and not some healthy veggie one.
Grandma da Vinci's Italian Mac and Cheese
Grandma da Vinci knows the best macaroni and cheese recipes, but it is not always a healthy meal. Luckily she is brilliant enough to allow the two to mix with this new healthier ve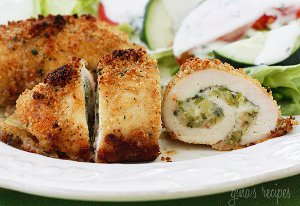 rsion of her famous recipe for baked macaroni and cheese, Italian style!
Don't have any vintage recipes? Well start today by sharing with family and friends your latest recipes and who knows, you could become a cooking legend!
What do you like better, vintage recipes or modern recipes? Let us know in the comments below!
Latest posts by FaveHealthyRecipes
(see all)