The holiday season reminds us all to give back and be thankful for what we've got. When we visited Feed My Starving Children's site in Libertyville, IL last week, we were inspired by the huge difference you can make in just an afternoon of volunteering. In four total hours (on two separate days), our team packed over 10,000 total meals for hungry children around the world.
Editor Katie Weiler got to the point when she said, "It was rewarding to be able to feed so many children in the span of just one afternoon."
Feed My Starving Children is a non-profit Christian organization where children and adults can volunteer to hand-pack meals specifically formulated for malnourished children around the world. FMSC's meals are a dry mix of varying ingredients that can include potato, soy, rice, vegetables, and vitamin and mineral vegetarian chicken flavoring mix. To pack a meal, a team of five fills and seals a bag together assembly-line style. Everyone wears hairnets which adds to the community feel, as does the bumpin' music which keeps energy up as teams compete to fill the most boxes with meals.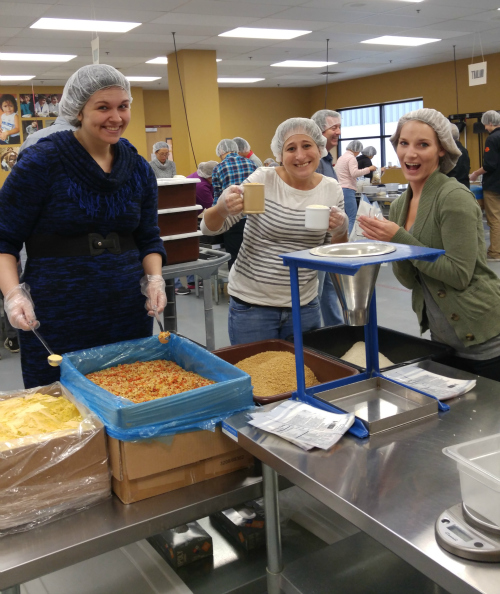 Editors Elizabeth Crozier, Arielle Matlin and Megan Boedecker packed meals Nov. 2 at Feed My Starving Children in Libertyville. They make hairnets look good.

Erin Jones, marketing analyst, said ""It really struck me how we take the most basic need of food for granted. I learned when kids in other countries are in physical pain from hunger, parents can only soothe the hurt with cakes made of dirt. It broke my heart. I've never fully understood what a blessing it is to have so many options in my fridge that food becomes a matter of choice, not need. Food is even a social activity, like getting a bite with friends. Volunteering at Feed My Starving Children will definitely make me think twice before wasting food."
Liz Abderholden, managing editor, said "Feed My Starving children has a fantastic set up that allows for any person from age 10 to age 80 participate. Every station is set for a certain country, which makes it feel a little more personalized. Plus, you get to have a fun cheer for each country when you finish. We worked towards packaging meals for Haiti, our cheer was "Haiti Rocks, We Got a Box" every time we filled a box of 50. The jobs are simple and allow for people to converse and socialize while working, which is also fun."
Dana Byerwalter, editor, said "Before we started, the employees told us a bit about the organization and showed us a short video about what they do . . . The amount of food we packed is going to feed a LOT of people!"

Editor Kaitlin Weiler seals a food bag.
Emily Racette, editor, said "I've volunteered there a handful of times now, and I always love going back. The atmosphere they create is lively with music playing in the background and competitions going on between each station. Volunteering her makes me realize how lucky we are to have food easily accessible in our own lives. This organization truly makes an impact, and I am so glad to have the chance to be part of it."
For more information on volunteering at Feed My Starving Children, visit www.fmsc.org.
Latest posts by RecipeChatter
(see all)