This guest post is courtesy of the Food Safe Families campaign —a collaboration on behalf of the Ad Council, USDA, CDC and FDA. For more information, you can check out FoodSafety.gov.
It is FINALLY warming up! And warm weather means more time outside (yay!). While sunscreen may be your best friend for your skin, an ice cooler is your best friend on the road. You know, that one that has been quietly sitting on a shelf in the garage and only taken out during cookouts or picnics. Why? Because during the summer months, incidents of food poisoning tend to spike thanks to harmful bacteria multiplying faster in the warmth. But don't worry, that cooler can help keep your perishable foods safe while you're out and about enjoying this weather.
Before you head out the door, bring that cooler to the kitchen and clean it with warm water and soap. When packing the food, make sure to fill it with PLENTY of ice or frozen gel-packs. If the food is still frozen when you pack it, it will stay cold longer. Placing an appliance thermometer in the cooler will help you be sure the food stays at a safe temperature–40 degrees F or below. Also, try to keep the cooler full. A full cooler will maintain a cold temperature longer than one that is partially filled. Don't forget to keep raw meat and poultry wrapped separately from cooked foods or snacks meant to be eaten raw.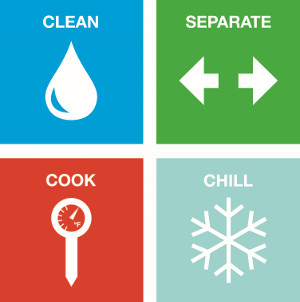 Taking a longer trip? Never fear, we've got tips for each occasion:
Long car trip:
Take two coolers with you, one for the food you will eat immediately, like that day's lunch, drinks or snacks. Use the other cooler for food that you will use later on during your trip or vacation. Try to limit the number of times you open this cooler, and open and close the lid quickly when taking food out.
Spending the day at the beach:
Take along only the amount of food that can be eaten to avoid having leftovers. Partially bury your cooler in the sand, cover it with blankets, and shade it with a beach umbrella. On a hot day, especially when outside temperatures rise above 90 degrees F, the ice in coolers melts faster so coolers can be less effective at keeping food safe.
Camping overnight:
Remember to keep your cooler in a shady spot. Keep it covered with a blanket, tarp or poncho. If the ice melts or the gel packs thaw, and perishable food becomes warmer than 40 degrees F, discard it.
When in doubt, just remember the four key steps to food safety: clean, cook, separate and chill and you'll be ready to enjoy the summer worry free!
If you want more tips or to learn more about the Food Safe Families PSA campaign, visit FoodSafety.gov to learn about food safety practices and access "Ask Karen," an online database with more than 1,500 answers to specific questions related to preventing foodborne illnesses. You can also call the USDA Meat & Poultry Hotline at 1-888-MPHotline or FDA's Information Line at 1-888-SAFEFOOD.
What questions do YOU have about cooking safely in the summer?
Latest posts by RecipeLion
(see all)