Having a list of amazing zucchini recipes definitely comes in handy during the summer when zucchini is cheap in the grocery store, or you have a bounty of it growing in your garden. Rather than just pan frying or baking the summer squash, why not turn it into something that actually tastes amazing? These savory zucchini recipes are perfect for when you need a side dish with dinner, or appetizer to serve at a party. Not only are they super easy to make, but they also taste so good that you'll totally forget you're even eating a vegetable!
Next time you have an extra zucchini or two on hand, try any one of the recipes below and be amazed at how good it can be. Some of these recipes are hearty enough to make a delicious summer dinner. Or, try an easy zucchini recipe like the Zucchini Parmesan Crisps when you need a quick snack. No matter which one you choose to try, one thing's for sure: they'll make you fall in love with zucchini.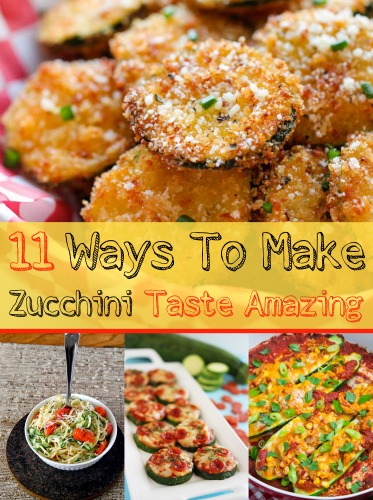 11 Ways To Make Zucchini Taste Amazing
1. Zucchini Parmesan Crisps – These Panko and Parmesan-crusted zucchini crisps will be one snack that you'll want to eat again and again. And for once, you don't need to feel guilty about it!
2. Simple Lemon Zucchini Noodles – This is one of those zucchini recipes that's super easy to make yet delicious. The light and fresh "pasta" is the perfect summertime dinner.
3. Zucchini Pizza Bites from The Comfort of Cooking – Who doesn't love pizza? Well, the same goes for zucchini recipes disguised as pizza. This appetizer is perfect for a party!
4. Chicken Enchilada Stuffed Zucchini from Closet Cooking – If you love chicken enchiladas, you'll love these Mexican-inspired stuffed zucchini recipe!
5. Zucchini Potato Skins – Zucchini replaces the potatoes to make a guilt-free version of the popular snack or appetizer. Serve these all summer long with bacon, cheese, or any other toppings.
6. Baked Zucchini Bites – This snack or appetizer is made of zucchini, cheese and more. The "bites" are baked in a muffin tin to create cute bit-sized treats for anytime.
7. Zucchini Turkey Meatballs – Zucchini recipes are especially great if they're made in the slow cooker. The ground turkey meatballs are perfect over pasta or by themselves.
8. Baked Zucchini Parmesan Crisps from Bakerette – These zucchini crisps are baked instead of fried, so they're a snack that you don't have to feel bad about eating all by yourself.
9. Zucchini Pizza Bites – Arrange these on a platter during a party and the crowd will "ooo" and "aah" over how good they look. Plus, they only take a few minutes to prepare!
10. Beefy Zucchini Lasagna – Slice a zucchini lengthwise to create lasagna "noodles!" This beefy, cheesy dish tastes just as good as your standard lasagna, if not better.
11. Pizza Zucchini Boats – This stuffed zucchini recipe is an amazing pizza alternative that won't make you miss the crust. Load them up with your favorite toppings and lots of cheese!
More Easy Zucchini Recipes
Don't miss even more of our zucchini recipe ideas:
What's your favorite savory zucchini recipe?
Latest posts by RecipeLion
(see all)