Print This Post
Who doesn't love a fun quiz to make their day a little brighter? AllFreeCasseroleRecipes has come up with a couple questions to determine what type of casserole you are. You could be a chicken casserole, hamburger casserole, pizza casserole or an enchilada casserole, and each type comes with a description about you that's based on your unique responses. Plus, don't miss the delicious recipes that correspond with your type of casserole!

1) What word best describes you?
a. Traditional
b. Loyal
c. Extroverted
d. Independent
2) What is your favorite thing to do in your free time?
a. Watch TV shows or movies
b. Read or play video games
c. Go out with friends
d. Anything creative (write, draw, etc.)
3) Pick your poison.
a. Wine
b. Beer
c. Mixed drink
d. You don't need to drink in order to have fun
4) How do you form opinions about controversial issues?
a. Look at history to decide how it was dealt with in the past
b. Think about what your favorite hero/heroine would do
c. Ask your friends about what they think and cobble together the best ideas
d. Innate knowledge of what's right and wrong
5) What's your favorite food?
a. Comfort food like chicken soup or macaroni and cheese
b. You'll eat anything
c. Junk food
d. Things that are organic or exotic
Count up how many As, Bs, Cs and Ds you have. Find the results below that corresponds with the highest amount of responses you have. (If you have a tie, consider yourself very complex. You are a mix of both results.)
Mostly As: Chicken Casserole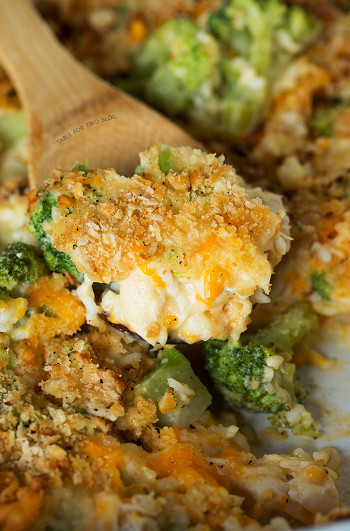 You're intelligent, level-headed and traditional. You often get nostalgic for the past and you love anything retro or vintage. You have a hard time dealing with change, but you comfort yourself by watching an old movie or Mad Men. You're probably a big history buff and very knowledgable. You have a strong sense of morals and it's difficult for you to understand other peoples' opinions, which can get you into some trouble at times. Chances are, your know-it-all attitude and stubbornness annoy some people, but you're fun to hangout with for a chill night with wine and a movie marathon.
Recipes that match your personality:
World's Best Broccoli, Rice and Chicken Casserole
Cheesy Chicken Spaghetti Casserole from Plain Chicken
Mostly Bs: Hamburger Casserole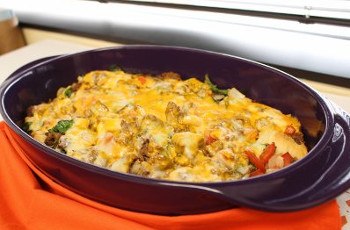 You're a bit of an oddball, but you're loyal and loveable. Your friends and family are most important to you. You will stand by them fiercely, no matter what. You're a great friend and you have a very close-knit group. You're naturally shy, but you open up once you get to know people. You're probably a nerd, but you embrace it because it's who you are. You feel most comfortable playing your favorite game or reading a book. You're a versatile person because you like going out and doing things with your friends, but you also like to stay at home alone.
Recipes that match your personality:
Bubble-Up Hamburger Casserole
Hamburger Hash Brown Casserole from This Girl's Life
Mostly Cs: Pizza Casserole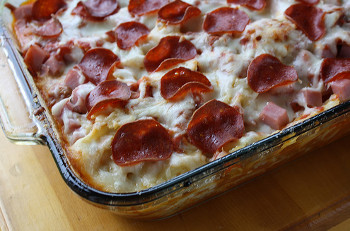 You're popular, optimistic and extroverted. Everyone wants to be your friend because you're always the life of the party. You can strike up a conversation with anyone and you have fun no matter what you do. Even though you come across as very upbeat and extroverted, you sometimes get lonely being the center of attention all the time. You wear your heart on your sleeve and tend to be idealistic, so you get hurt a lot. You get over it quickly, though, by partying the night away.
Recipes that match your personality:
3 Meat Pizza Casserole
Spaghetti Squash Pizza Casserole from Stir It Up
Mostly Ds: Enchilada Casserole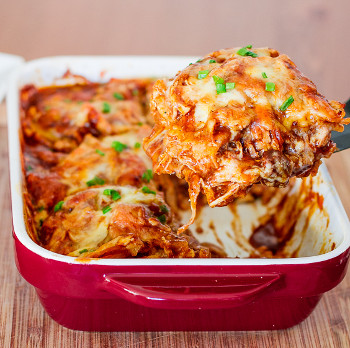 You're independent, wild and creative. You're the one who gets stares for wearing that weird outfit in public, but you could care less. You're dreamy and always in your own world. You have a good imagination and love to do things with your hands like draw or cook. You're constantly thinking of new things that no one has ever thought of. You like to spend time on your own, but when you're with friends, you go crazy and probably get a little too wild. You don't regret much because you know that making mistakes is just a part of life. You're the person that fascinates everyone.
Recipes that match your personality:
4-Ingredient Chicken Enchilada Casserole
Nirvana Enchilada Casserole from Post Punk Kitchen
Tell us what result you got in the comments!
AllFreeCasseroleRecipes is dedicated to easy casserole recipes, cooking tips, and articles on cooking. From chicken casserole recipes to ground beef casseroles, we find and deliver the best casserole recipes from all over the web. Plus, we feature free product reviews and giveaways of all the latest and greatest products including cookware, cooking gadgets, cookbooks, food, and more. AllFreeCasseroleRecipes is a wonderful online resource for cooks of all skill levels.
Latest posts by AllFreeCasseroleRecipes (see all)
Print This Post