Summer is finally here and grilling season is underway. Whether you're planning graduation parties, picnics, barbecues or just looking for a tasty weeknight meal, burgers are a great warm weather treat. For the most authentic summer flavor, grill your burgers on an outdoor grill. If you don't have a grill, try a grill pan, a tabletop grill or even just flipping your burgers in a hot, oiled skillet. Here are 5 delicious burger recipes to heat up your summer cooking!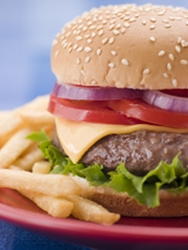 Apple-Stuffed Pork Burgers – Put the ham back in hamburger with this tasty pork recipe. Use pork instead of beef to cook delicious, succulent burgers. Your burgers have never tasted so good.
Avocado Veggie Burgers – Veggie burgers have never been so easy! These Avocado Veggie Burgers are packed with protein and they are great for lunch or dinner anytime.
Spicy Butter Burgers – Want to make juicy hamburger patties? Check out these juicy spicy butter burgers They have a bit of kick from the peppers, a whole lot of flavor and are supremely juicy thanks to that bit of butter. Delish!
Mexi-Turkey Burgers – There's a fiesta on the grill tonight with Mexi-Turkey Burgers! This simple recipe will keep them coming back for seconds all summer long.
Chicken Bacon Burgers – Use leftovers and pantry staples to make a delicious and savory burger. This is one of the best Ritz cracker recipes for the grill. Ritz cracker chicken recipes are affordable and full of flavor. Ritz crackers recipes are perfect for any occasion.
Latest posts by RecipeLion
(see all)