For years, Wicked Chicken has been our top recipe on AllFreeCasseroleRecipes.com. As 2014 came to a close, it was clear that it had again topped the charts. With the success of Wicked Chicken, we wanted to try to replicate the flavors and ease of the original, but in a whole new way. Thus, Wicked Beef was born in our Test Kitchen.
Readers like Wicked Chicken because its three ingredients make it an ideal weeknight meal. Our beefy version combines ground beef, egg noodles, Alfredo sauce, diced tomatoes, and chilies, and a couple spices to give it even more flavor. It's amazing that a few simple ingredients can produce such intense flavors like they do in our Wicked Beef dish. It's wickedly good and wickedly easy. If you like Wicked Chicken, you're definitely going to love this ground beef casserole.
Wicked Beef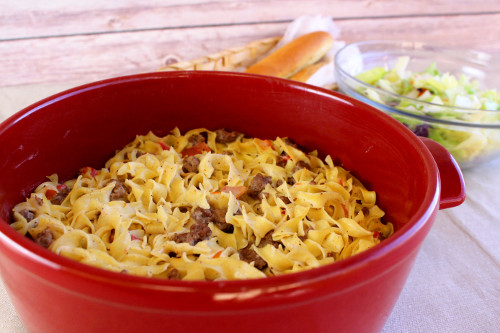 Ingredients:
1 bag egg noodles
1 1/2 pounds ground beef
1/2 teaspoon salt
1/2 teaspoon garlic powder
1 jar Alfredo sauce
1/2 can diced tomatoes and chilies (use more, if desired)
Pinch of red pepper flakes
Directions:
Preheat oven to 350 degrees F. Prepare pasta according to package directions.
While pasta is cooking, heat a skillet to medium-high heat. Brown ground beef. Add salt and garlic powder. Drain and set aside.
Drain pasta and place in bottom of 9 x 13 inch baking dish or a Dutch oven. Layer ground beef on top of pasta.
Empty contents of Alfredo sauce into a mixing bowl. Fold in diced tomatoes and chilies.
Pour sauce mixture into baking dish and gently mix together until pasta and beef are thoroughly coated with sauce. Stir in red pepper flakes to taste.
Bake, covered, for 30 minutes.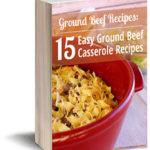 For more delicious recipes, check out our free and downloadable eCookbook!
If you love trying out new recipes, subscribe to The Casserole Connection, the newsletter for AllFreeCasseroleRecipes.com!
What is your favorite spicy recipe? Let us know below in the comments!
Latest posts by AllFreeCasseroleRecipes
(see all)