We love one pot recipes because they cut down on dishes and help you get dinner on the table fast! These one dish meals are all made in one sheet pan, so you can arrange your dinner on the pan and roast it all together. We've included sheet pan dinner recipes, as well as easy dessert recipes. Your baking sheet might just become your new favorite dish in your kitchen.
Cooking an entire meal on a single baking sheet is a great alternative to everyone's favorite classic one pot recipes. Not only does it allow the flavors of your meats and side dishes to cuddle up together in the oven, it also cuts down on cleanup time. Plus, sheet pan desserts make enough to feed a crowd, so they're perfect to bring to a potluck or party. Give this creative approach to creating a seamless dinner a try tonight!
Winner Winner Sheet Pan Dinner! 11 One Dish Meals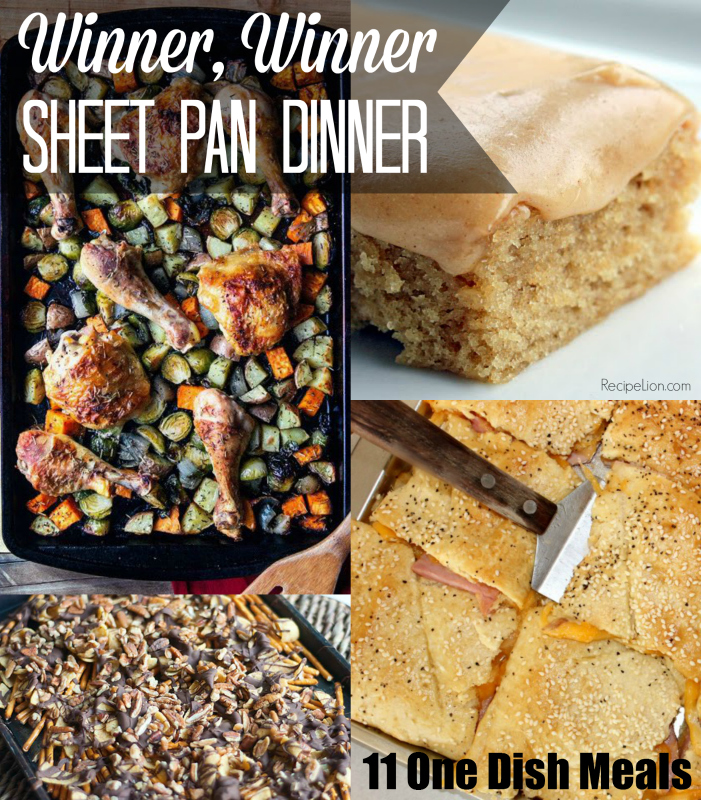 One Dish Dinners
These sheet pan dinners combine protein, vegetables, spices and oil to create complete one dish meals that are easy to prepare and super delicious. The meat gets infused with the flavors of the vegetables, so everything has a great taste and stays super moist. Give these one dish meals a try next time you need a quick weeknight dinner. You won't be disappointed.
Sheet Pan Desserts
Bake a whole pan of something delicious! These one pan easy dessert recipes are perfect for entertaining because they can be cut into a large number of pieces. From sheet cake, to slab pie, to easy candy recipes, these sheet pan desserts are the picture of perfection.
What's your favorite meal that's made using just one pot or pan?
Latest posts by RecipeLion
(see all)