Print This Post
Cozy, hearty dishes are what winter's all about, to me. There's nothing quite like coming in from the cold and warming yourself up with a hot meal after trekking home through the winter weather.   A tasty beef chili recipe is a good option, but I'm not a huge fan of spicy foods and chili tends to run a little hot for me.  Besides, it can be difficult to coordinate your main course, side dish, and whatever else you want to eat. The semi-elegant answer to this problem is to just throw everything into a single dish and call it good
One-pot meals come into their own in the cold months, since they're often made in slow cookers and are wonderfully warm dishes. I love them since you get all the nutrients you need out of a single dish. They're easy meals that are perfect for nights when you don't want to cook anything fussy—just something simple that tastes good.  It's my idea of the best comfort food out there.
I've gathered the 5 one-pot meals that I'm gearing up to try out, now that the temperature is starting to drop.
5 One Pot Meals
1. Classic Ratatouille Stew  Remember that Pixar movie about the rat that came out several years ago?  This is the dish the movie was talking about.  I've been wanting to try my hand at this traditional French recipe ever since seeing that movie.
2.  Shepherd's Pie with Kale  Traditionally made for shepherds to take with them as they watched their flocks on the range, this dish will get you all the nutrients you need.  Kale mixed with potatoes gives this particular recipe an extra kick of flavor and gives the dish a rustic look.
3.  Veggie Pot Pie I'm a huge fan of pot pies.  I just love the way the flavors of the veggies blend together inside of these hearty pies.  This recipe features a crust made from sliced potatoes, and I'm excited to see how it turns out.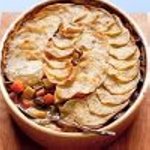 4. One Pot Cowboy Skillet Ground beef, a little bit of spice, and some beans, what's not to love?  I'm planning on making this dish for my spice-loving boyfriend.
5.  Wild Rice Casserole A simple recipe that will fill you right up.   This is an easy recipe to follow, so you can't go wrong with this beef and rice casserole.  You'll need to let it bake in the oven for a while, but it'll be worth the wait.
What's your favorite kind of winter food?
FaveGlutenFreeRecipes.com is your source for hundreds of free gluten free recipes, gluten free foods, and gluten free healthy recipes. We add new wheat free recipes and tips every day. You will find step-by-step instructions, videos, and recipes to make gluten free cooking quick and easy. Whether you have celiac disease or are just interested in learning more about a gluten free diet, we have something for everyone. From healthy gluten free breakfast recipes all the way to gluten free dessert recipes, we have gluten free cooking ideas for everyone and for every situation.
Latest posts by FaveGlutenFreeRecipes (see all)
Print This Post