Print This Post
When I come home from work, the last thing I want to do is cook a long and involved meal. What I really want to do is set down my keys, pick up my plate, grab a glass of wine and stuff my face. Too bad life isn't really like that (at least, not for me). So, I've found that one of the next best things to my imagined utopia is stir fry recipes and easy Asian-inspired meals.
If I'm being forced to cook, the last thing I want to do is make a recipe that will result in me doing a lot of dishes. That's why I like stir fry and Chinese food recipes. I can just throw everything that I need into my wok and get going.
In other words, wok recipes are easy. They're delicious because the wok really allows so many flavors to come together and blend perfectly. Plus, woks make cooking dinner so simple because of their size and shape. I'm proud to say that I have quite the love affair with my wok.
Looking for delicious wok recipes that are also super easy to make? Check out my list!
Top 10 Ways to Use a Wok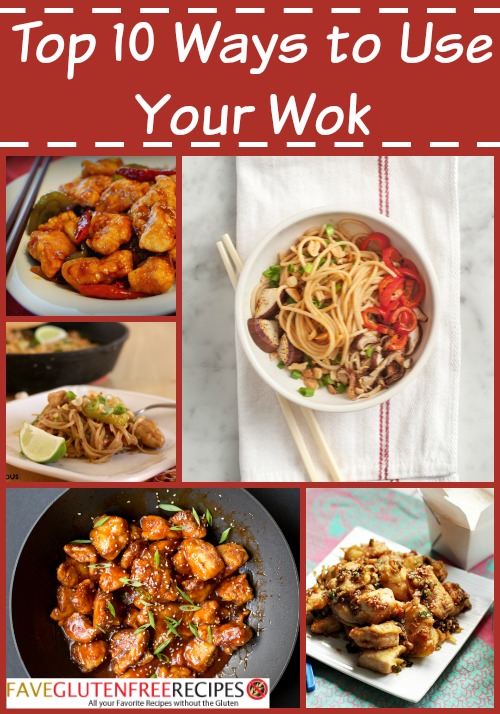 Which of these wok recipes would you be most likely to make?
FaveGlutenFreeRecipes.com is your source for hundreds of free gluten free recipes, gluten free foods, and gluten free healthy recipes. We add new wheat free recipes and tips every day. You will find step-by-step instructions, videos, and recipes to make gluten free cooking quick and easy. Whether you have celiac disease or are just interested in learning more about a gluten free diet, we have something for everyone. From healthy gluten free breakfast recipes all the way to gluten free dessert recipes, we have gluten free cooking ideas for everyone and for every situation.
Latest posts by FaveGlutenFreeRecipes (see all)
Print This Post