Life is too short to eat desserts one at a time. You know how the story goes: you've just eaten dinner, but you still feel a little craving for something… sweet. It's dessert time, but every dessert you see looks amazing, and the choice is just too hard to make.
If you've ever been in this situation, these 11 Dessert Mashups are the sweet treats you've been waiting for. From apple pie inside cupcakes to the fanciest mini cupcakes you've ever seen, I'm proud to present to you these desserts that make the tough decisions for you.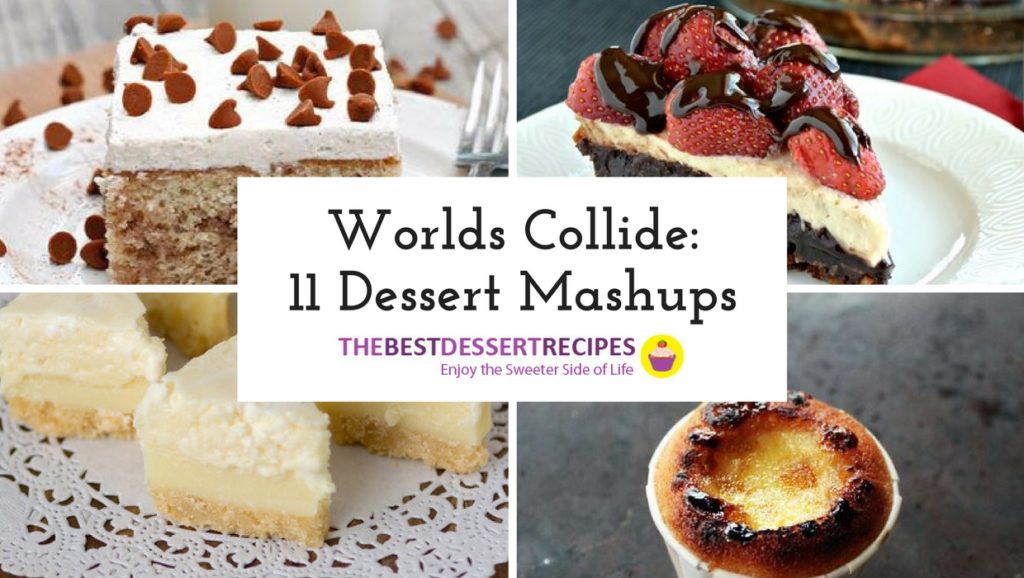 This Apple Pie Cupcake Recipe is simply divine. If you're a fan of either of these desserts, then you really can't go wrong here. These cupcakes are so easy to make, and they're come out perfectly every time. There's really nothing better than seeing the look on someone's face when they bite into these cupcakes and taste that amazingly sweet apple pie filling.
Perfect for any occasion, this Cinnamon Roll Poke Cake Recipe will blow your family and friends away. It's so easy, and, like all poke cake recipes, it's filled with fabulous flavor. One bite, and your guests will becoming back for more. Why have just one dessert when you could have two? You could also serve this cake as a tasty dessert for breakfast that the whole family will love.
Pies? Milkshakes? Who has the time to choose! This recipe for a Boozy Banana Cream Pie Milkshake is too good to turn away. There is a little bit of booze in this one, so maybe keep it away from the kids. It's perfect for those summer days when you just want something cool, fruity, and refreshing. Plus, it has bananas in it, so it has to be healthy, right?
I dare you to try to turn away a serving of this Unbelievable Pecan Pie Bread Pudding! It's the ooey gooey dessert you've been waiting for. Take it to Thanksgiving or Christmas or a family gathering, and it will disappear before your eyes. Your friends and family will be asking you where you got this recipe. Probably best to keep this one a secret!
Yeah, you read that right. Three desserts. One amazing pie. This recipe for Banana Split Brownie Pie really is as tasty as it looks. It's just layer after layer of sugary goodness. Who could turn this hybrid dessert recipe down? Take this pie to a potluck or a party and share the love. Just don't forget to save a piece (or two) for yourself or you might go home with an empty pie dish.
Everyone knows the two fanciest types of desserts are mini desserts and creme brulee. This recipe for Mini Creme Brulee Cupcakes will give you a dessert so delicious and fancy schmancy, your guests will be coming back for more of these bite-sized goodies. These would be great for any occasion. Get your blow torches ready! These mini cupcakes are worth the extra work.
Break out your sweaters and start up the bonfire because this dessert mashup is the fall recipe you never knew you needed! This recipe for Easy Apple Pie Smoothies is seriously one of the easiest desserts you'll ever make. It uses oats to give it that distinctive pie flavor that you just can't get in a normal fruit smoothie. This dessert drink will make you feel like you're on a hayride.
Take your taste buds on a trip to Italy… in the fall. This Apple Pie Cannoli Recipe is out of this world, and they're really easy to make, too. You could eat these for a dessert for breakfast, for a celebration, or for no reason at all. They're so tasty and creamy, you won't be able to resist eating more than one! And what's even better is that there is just a tiny bit wine in this recipe to give extra flavor.
Dessert breads come in all shapes, sizes, and flavors, but this recipe for Glazed Cinnamon Roll Bread really takes the cake. Cut yourself a slice of this amazing dessert quick bread, pour yourself a hot cup of coffee and start your day the right way. Take it to a fall party, eat it on Christmas, or slice it up for Thanksgiving — you really can't go wrong.
If you're a fan of either of these amazing desserts, then you really can't go wrong with this Lemon Meringue Pie Fudge recipe. It's like eating little miniature versions of this bright, fruity pie. It starts with a simple, 3-ingredient crust on the bottom. Then there's the rich but refreshing lemon pie filling layer. And lastly there's the meringue fudge on top (with marshmallow fluff)!
Last but not least, we have the famous Cronut. (You knew this was coming.) Since its invention in 2013, the cronut has become wildly popular. Now you can make this classic dessert mashup at home with this Homemade Conuts Recipe.
Latest posts by TheBestDessertRecipes
(see all)