I always find myself eating an absurd amount of salad during the summertime. Salads are just so easy to throw together and you can make a salad out of almost anything you have on hand. With the weather getting hotter and hotter it's also a huge bonus that salads don't require any actual cooking.
It's super easy to get into a salad rut, especially if you're eating it day in and day out. I keep things interesting by making my own homemade croutons. Homemade croutons are ridiculously easy to make, and I can make a huge batch and then keep them on hand for my salads all week. Croutons add texture, crunch, and flavor to green salads, and they also help make the salad more filling.
Making homemade croutons sounds intimidating, but it really couldn't be simpler to learn how to make croutons. We made them in the test kitchen this week and they came together in less than half an hour! They also filled the whole office with a wonderful aroma, and you better believe that they didn't last long once they were out of the oven.
1. You will need: 4 cups stale cubed bread, 4 tablespoons olive oil, 1 minced clove of garlic, salt, pepper, and Italian seasoning.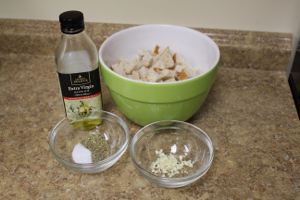 We used stale sourdough bread, but you can use any bread you have on hand. I've made this recipe with sandwich bread and the croutons were just as delicious! You can also feel free to play around with the seasoning.
2. Toss the bread with the olive oil, garlic, and Italian seasoning. Season with salt and pepper to taste.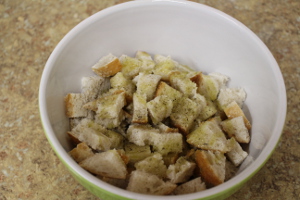 3. Place the croutons in a single layer on a tinfoil-lined baking sheet.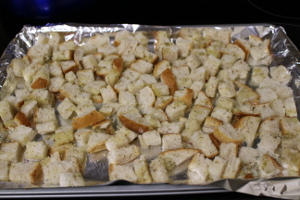 4. Bake the croutons in an oven that has been preheated to 350 degrees F for 25 to 30 minutes, or until the croutons are golden brown. Remove from the oven, cool, and enjoy!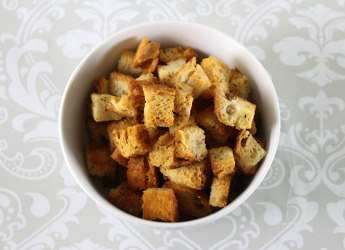 It's really that simple to make croutons at home. Now you're ready to add them to your salad or to eat them straight off the baking pan!
Here are some great salad recipes that would go well with these homemade croutons:
What is your favorite salad topper? Tell us in the comments below!
Latest posts by FaveSouthernRecipes
(see all)